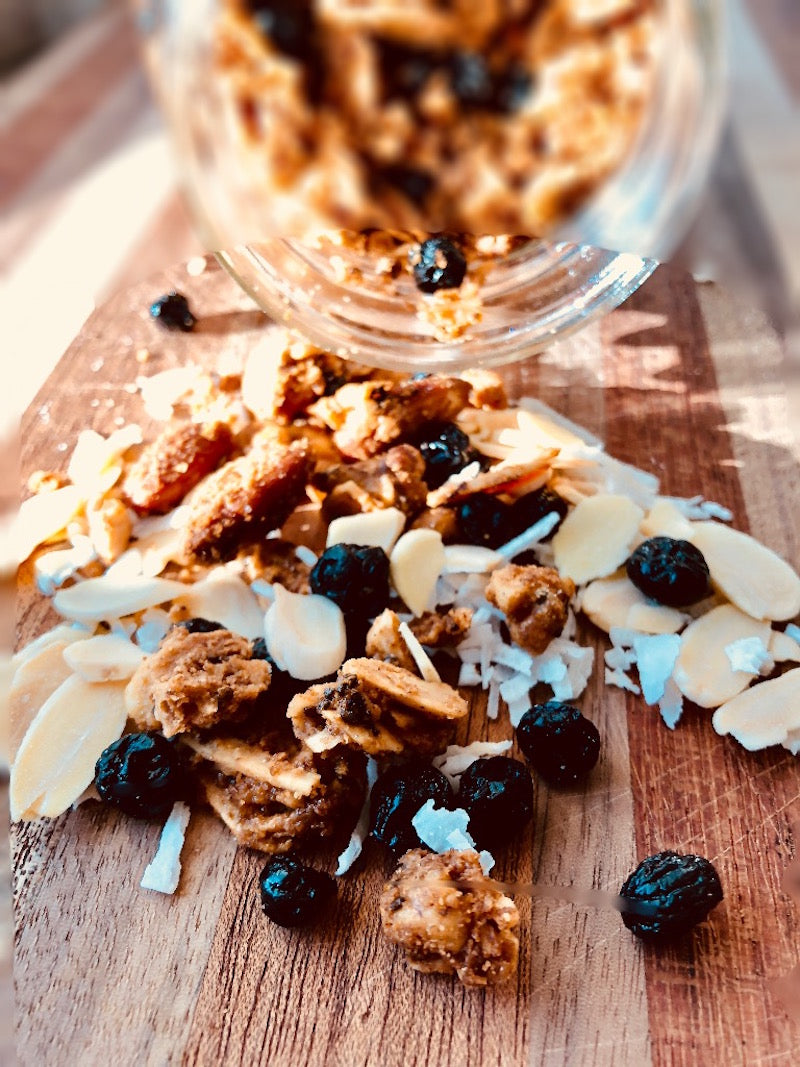 Want a yummy, high protein breakfast that tastes like heaven and makes you feel like you're flying in the clouds?  Try this paleo granola recipe that has a packet of IN:PEACE, which has over 1,500 mg of adaptogenic herbs to keep you chill.  Great for kids too!!!
1 IN:Peace packet
2 cups almonds I used 1 cup chopped and 1 cup sliced
1 cup walnuts roughly chopped
1 cup coconut flakes
2 tablespoons chia seeds
1/3 cup maple syrup
¼ cup coconut oil melted
¼ cup creamy almond butter
1 tablespoon vanilla extract
2 teaspoons cinnamon
½ teaspoon kosher salt
1 cup dried blueberries (I like Trader Joe's)

Instructions

Preheat the oven to 300ºF and line a baking sheet (or 2, if they're smaller) with parchment paper.
In a large bowl, mix together the almonds, walnuts, coconut flakes, and chia seeds.
In a separate bowl, whisk together the IN:Peace, maple syrup, coconut oil, almond butter, vanilla extract, cinnamon, and kosher salt.
Pour the wet ingredients over the dry and stir until all the dry ingredients are coated. Spread the granola mixture into an even layer on the prepared baking sheet(s).
Bake for 50 minutes to an hour, turning the pan every 20 minutes and mixing to ensure it doesn't burn.
Remove from the oven and press down slightly to help form clusters, and then let cool completely without disturbing to help the clumps form. Once cooled, toss in the dried blueberries.
Store in a sealed container or bag at room temperature for about a month, or in the refrigerator or freezer for longer.
Serve with some almond milk, goat milk or whatever milk tickles your fancy.  Also awesome as a snack!!!
Enjoy and be well, 
Simone