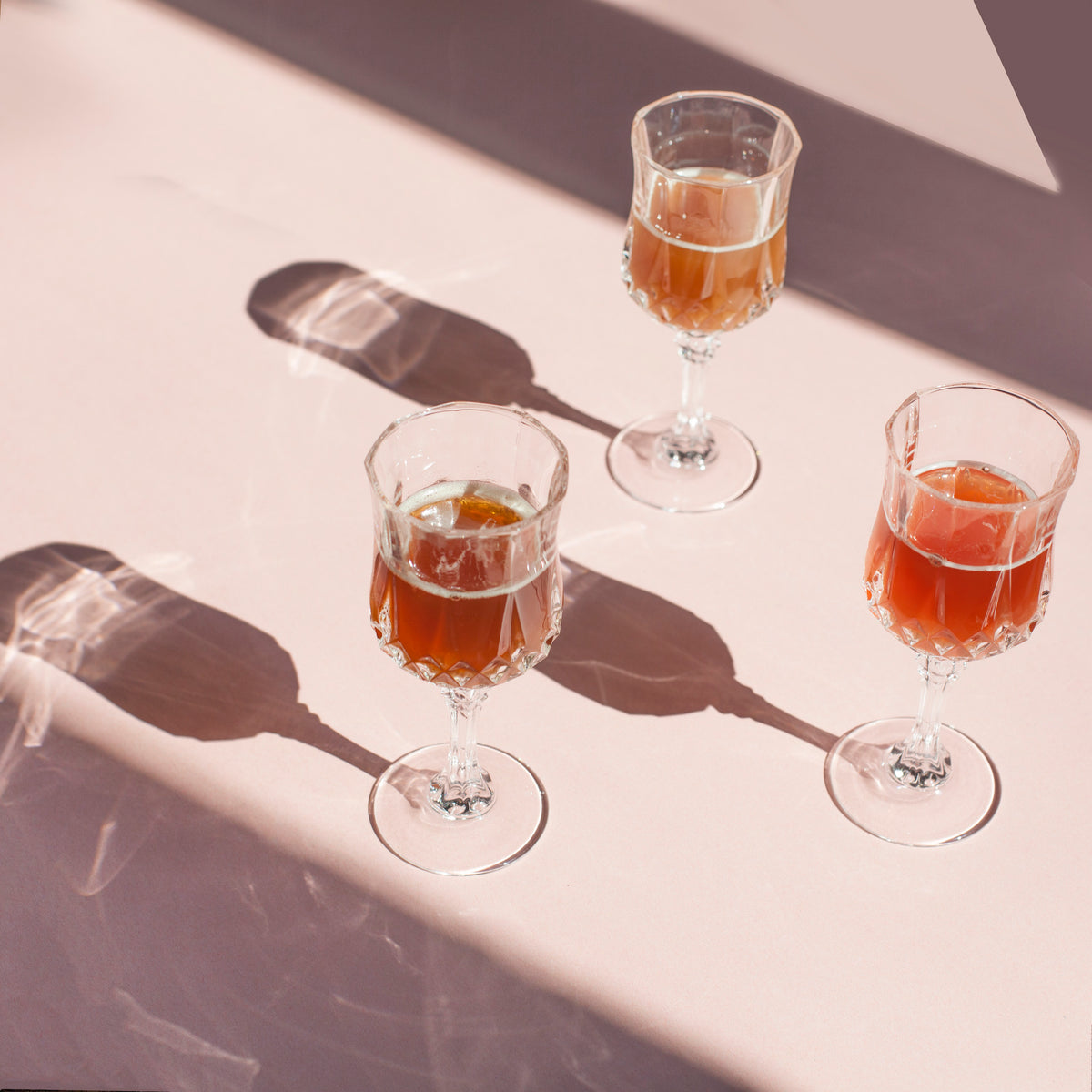 Just like so many of you, I enjoy a really good glass of wine or a cocktail!  For me, having a drink signals fun, reward and relaxation.  And these days, we may also find ourselves reaching for our go-to alcoholic beverage to help reduce stress and anxiety, and to help us relax. 
What we might not know, though, is that even small amounts of alcohol—1 drink in an hour—has an impact on the body's functions and can reduce the function of our immune system.  The body and our livers go into overdrive to process the alcohol, which negatively impacts its immune fighting function. And now more than ever, we need our immune system to function optimally!
We also need quality sleep to shore up our immune systems, so that we can weather the Coronavirus storm.   So, it's important to note that even small amounts of alcohol can disrupt sleep.  According to findings of multiple studies, even as little as one drink can impair sleep quality and disrupt circadian rhythm function. Although it may allow healthy people to fall asleep more quickly and sleep more deeply for a little while, alcohol reduces rapid eye movement (REM) sleep, which is the more restful sleep that allows for recovery.  So, we wake feeling tired and already under stress, both emotionally and physically. 
So, how about some drink ideas without alcohol that taste so delicious that you won't feel deprived, and have the added benefit of functional ingredients that can help our bodies boost immune fighting capabilities?
Sparkling Blood Orange and Turmeric
-Jessica Gavin, certified culinary scientist and author.
This beverage is packed with flavor, is beautiful to look at, and has functional benefits from Turmeric and Ginger and Vitamin C.  Turmeric and Ginger are both proven immune boosters and anti-inflammatories!  And we all know that Vitamin C is a super-immune booster.
Recipe
Ingredients
1 cup blood orange juice, plus 2 orange slices for garnish

½ teaspoon ginger powder

½ teaspoon turmeric

1 cup club soda, or sparkling mineral water

honey

, maple syrup, or agave if desired

4 mint leaves

2 springs rosemary
Instructions
In a medium-sized bowl whisk together blood orange juice, ginger powder, and turmeric powder.

Add ice to each glass.

Pour ½ cup of blood orange juice mixture into each glass and ½ cup club soda.

Add sweetener if desired and stir.

Add mint, Rosemary and orange slice in each glass.
Sparkling Watermelon and Cucumber Refresher-The Clever Carrot
Another delicious beverage that is packed with immune-boosting ingredients.  We might think that Watermelon as just a tasty treat.  Think again!  Watermelon is packed with vitamins, minerals, and other nutrients, but what makes it a super food is its large concentration of lycopene. Lycopene gives watermelon flesh its red color and offers multiple health benefits, including reducing respiratory inflammation, which helps prevent infection.  A perfect food to help our bodies fight flu and Coronavirus!  And of course, Ginger is a power-packed immune booster and anti-inflammatory. 
Recipe
Ingredients
1 Cup English Cucumber, peeled

1 Cup of cubed Watermelon, seeded

2 Lemons

Sparkling Water or Club Soda

Fresh Mint

Extra Cucumber Slices for Garnish
Instructions
Add the Cucumber, Watermelon and Ginger to a blender.

 

Process until smooth and the Ginger is broken up

Add the juice of 1 Lemon, or more if you prefer

Strain to remove any seeds and pieced of Ginger

Pour juice into glasses until about 2/3 full

Top with sparkling water

Garnish with Fresh Mint and Cucumber Slices

Serve Chilled
Don't have the time or the energy or all of the ingredients to make these recipes right now?  Try a sachet of IN:PEACE.  No recipe required because I have done all of the work for you!  Just mix a sachet with 6-8oz of water. IN:PEACE is delicious on its own, and you can drink it hot or cold and you can add other ingredients like seltzer water, juices, lemon, or lime, or anything else that you might enjoy.   
IN:PEACE is chocked full of functional benefits because it includes herbs, antioxidants and clinically proven stress-reducers like Rhodiola Rosea and Schisandra Berry.  If we increase our body's ability to purge toxins and free radicals with antioxidants, we can better fight illness.  Studies show that stress and anxiety can also weaken our immune systems.  So, reducing the effects of stress and anxiety is critical for our overall wellbeing and our immune systems. 
Boost your immune system, reduce your stress-- Stay strong and healthy! 
Be Well!
Simone
#mocktails #immunebooster #turmeric #ginger #watermelon #stressreliever #herbalstressreliever #REMsleep #inpeace #alcoholsleepdisruption